Master Calendar of Events
in Southern California
— Local & Online
Publications of The Christian Science Publishing Society
Prayer that Heals.org



English or Español

Time4Thinkers.com

Pacific Health Perspectives


Christian Science in Southern California

Mary Baker Eddy Library

Light in Prison.org



Christian Science Committee on
Institutional Work in California

Annual Talk about Christian Science
Our church sponsors a healing Christian Science lecture each year. Inspired speakers from the Chritian Science Board of Lectureship offer ideas that are in tune with the community's needs and lovingly offered to reach all who hear it with the dynamic message of divine Science.
Never Alone: How Spiritual Ideas Work In Us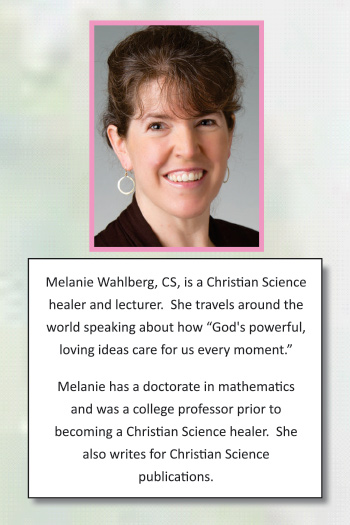 2017 – Melanie Wahlberg
Previous Talks
[click on audio bar or picture to hear
the lecture]
Christian Science – Effective Prayer


2016 – Brian J.S. Kissock
OVERCOMING – the Culture of Fear

2015 – Marie Helm
---
Living in Harmony – God's Law

2014 – Josh Niles
---
The Healing Effect of Your Prayers

2013 - Ginny Luedeman
How Christian Science Heals Bodies and Restores Lives
Click Here for Ginny's handouts
(referred to in her talk).
---

2012 – Mark Swinney
The Healing Effect of Your Prayers
---

2011 – Brian Talcott
How relying on God brings Healing
---
Click Here for more lectures